To export the Current Docs grid screen to a file run a search to populate the Current Docs grid screen with the information to be exported.
NOTE - the columns currently displayed in the Current Docs Grid screen are the columns that will appear on the export.
Next, from the Tools menu, select Export Grid or type CTRL+M:

The Export Grid dialog box will appear: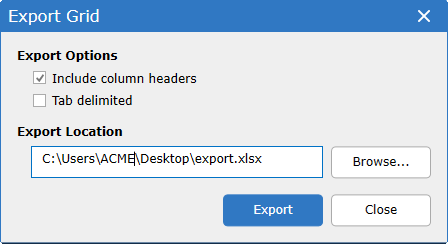 Choose the Export Options (Excel or tab-delimited).
Browse to the location where to save the export file using the Browse... button and select Export.
The export location will be automatically opened when the export completes.